The Douglas Difference
Douglas delivers a fresh approach to automotive shopping and ownership that delivers value like no other. Don't settle for second best when it comes to finding the right Volkswagen dealer. Above all, Douglas Volkswagen delivers high integrity in all our business. We offer:
Great Reputation
Fanatical Customer Focus
Experienced Staff
An Award-Winning Experience
A Strong Heritage
Our Unique Philosophy
Our Customers Tell the Story
You don't just have to take our word for it. Douglas customers are happy to share their positive experiences. We always work hard to attain complete customer satisfaction, and our customers know it because they keep coming back. Learn more about why our customers say "I love Douglas!"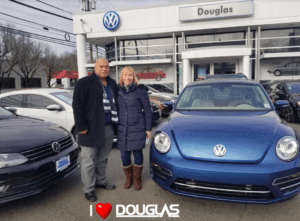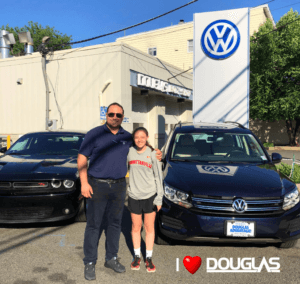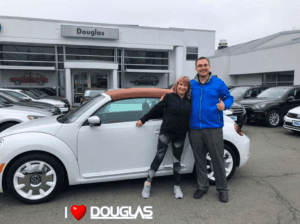 Accolades are great, but a customer's smile is our prize
We have now won the Wolfsburg Crest Club Award, previously the Customer First Award, 8 consecutive times, making us the only dealership in the country to have that distinction. As a business, to be recognized for great sales performance is an excellent accomplishment. However, what makes us most proud is our ranking in Customer service, not in how many cars we sell. That's why Douglas thrives with the "customer first" attitude.
Our Heritage
Douglas has been family owned for over 50 years. We know our community and they know us. We're always excited to meet new people and help them get the best car to suit there needs. Our heritage is doing business with integrity and morality from day 1. We have always strived to do what is best through our professional staff who are ready to make the experience one that you will happily share with others.
Our Philosophy
It's only natural for you to want the best price possible, especially in times like these. Our low overhead and No-Nonsense Approach allows Douglas to offer a simple, straightforward and genuinely great price on the new or preowned vehicle of your choice on the spot or online. If you haven't yet shopped Douglas, you owe it to yourself to do so.

Shop in Comfort and Drive Off with Ease!
We've put a lot of thought into the customer experience here at Douglas and we've worked hard to make sure it is as easy and enjoyable as possible. It truly doesn't take a lot to give a typical car buyer a better experience than they've had elsewhere in the past, but we wanted more. We wanted to not only make it smooth and easy but also an enjoyable event that can allow the customer to focus on the excitement of a new vehicle instead of potential hassles associated with a big purchase. That's why we've introduced The Douglas DocuPad. The entire process is an open book with this amazing digital desktop. From shopping to financing to wrapping up your "paperwork", your salesperson will walk you through the entire process in ONE place! Watch the video to see what shopping is like at Douglas with DocuPad!
Right Where You Need Us… When You Need Us!
Take advantage of Convenient, Value Added Services. Courtesy transportation, loyalty rewards, upgraded facilities, green initiatives, and ongoing quality assurance in everything we do makes Douglas, the intelligent alternative to highway stores while ensuring a more rewarding ownership experience. All the while, easy access to our convenient Morris Avenue locations makes life a little easier.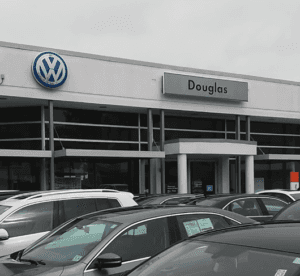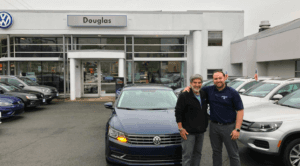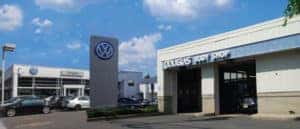 Integrity, Something You Can't Put A Price On!
We've always been driven by basic core principles. For nearly half a century, Douglas has become an industry leader in customer care while never forgetting its roots. We're proud to be family owned and operated, treating you with the honesty, accountability, and integrity you deserve. Admittedly we're human, and occasionally make mistakes, but see to it that our customers will never pay for them.
The Unvarnished Truth!
We believe an informed customer is our best advocate. So we update, and review your options for each sale or service purchase decision. We believe our ultimate success is inputting your interests first. And, we would hope that after 150,000 Douglas customers past and present, it shows.